We felt our first task was to clear her of the previous diet and medication in order to create a new holistic regime which involved using Healing With Colour filters. Specific colours clear the systems of poisons and debris that create the imbalances in the body. We used Lemon, Violet, Purple, Green, Yellow and Orange. But not necessarily in that order as the higher vibrational colours were used to calm the traumas she suffered. Misty responded well to colour for a few months and especially liked lying under Lemon which has so many benefits.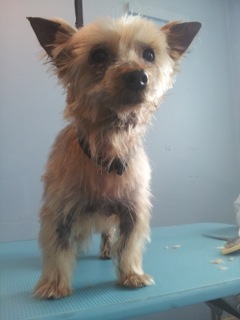 Not a happy girl with
black legs.
We left her with friends for a few weeks as we were scheduled to go abroad for Colour Healing teaching. When we returned, her condition appeared to be deteriorating and her skin was becoming black with large
folds near the joints of the legs and underbelly. Could stress have been the cause of this and the original skin disorder, or was it eczema, dermatitis, hypothyroidism, renal problems, vaccine damage or allergies. She was bathed with a mite shampoo almost every day.